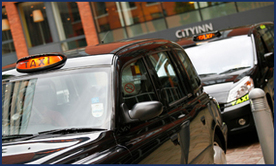 Ever wondered how to become a Taxi Driver?
We provide training for the Driving Element of the Taxi Test.
The Practical Driving Assessment.
Don't be caught out! Just because you have a lot of experience behind the wheel, don't assume you'll be able to meet the standard necessary to pass this test.
In fact most of the people that come to us for training, have already taken the Taxi test themselves and failed. As with any test, there is a standard to meet. With over a decade's experience of Taxi Test Training, why not let us help you?
Prices
£33 per hour using our vehicle
£31 per hour using your vehicle
Are you the owner / manager of a Taxi company?
How professional are your drivers? Remember: your drivers are the face of your company. They represent you, and can either win or lose you business.
There are many ways we can help, for example:
Driver assessment
This can be done with the driver's knowledge, or
This can be done without their knowledge, as a 'mystery fare'
–  This can be done specific to a journey and driver, or
–  This can be done over a series of journeys, without identifying the driver, providing a broader 'company-based' picture, using collated results
–   See below for a sample report
Driver training
Customer satisfaction surveys
Please contact us to discuss your specific requirements.
Please note
The objective of these is not to catch anyone out.
The objective is to help develop your business (and the drivers' business) through quality-checked standards, giving commendation and making improvements where necessary.
Prices
Please call to discuss.